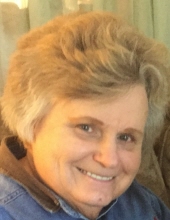 Obituary for Linda Ines Ries
Linda Ines Ries, 74 of Chatham, Ohio passed away Friday, Sept. 1, 2017 at her home with her family. She was born July 10, 1943 in Cleveland and was a 1962 graduate of John Marshall High School. Linda was a loving wife, mother, grandmother and homemaker. She is survived by her husband Harvey, to whom she was married to for 54 years; Children, Robin Ries of Lodi, Rebecca (Brian) Guzik of Brunswick, Phillip Ries of Brunswick, Randall (Alexis) Ries of Canal Fulton, Ryan (Danielle) Ries of Wheeling, WV. Grandchildren, Jessica Ries, Cole Brewer, Nickolas and Brandon Senauskas, Gabriella Guzik, Julianna, Aleah, Randall II, Layla, Isabella Ries, Brantley and Braxton Ries. Great-Grandchildren, Hunter and Logan Williard. Sister, Susan Clouston of Concord, OH, Brother, Donald (Pamela) Clouston of Lithia, FL, Sister-in-Law, Ellen (Leonard) LaRue of Maynardville, TN, and many close friends. She was preceded in death by her mother Margaret Clouston, grandson Timothy Gorbatoff, and father and mother-in-law Harry and Hattie Ries.
A celebration of life will be held at her home on Saturday, September 9th at 1pm. 7330 Vandemark Road, Lodi, OH 44254.
Online condolences may be shared at www.parkerfuneralhomes.com .
Arrangements by Parker Funeral Home, Lodi (330-948-1122).
Previous Events
Celebration of Life
Ries Family
7330 Vandemark Road
Lodi, Ohio 44254